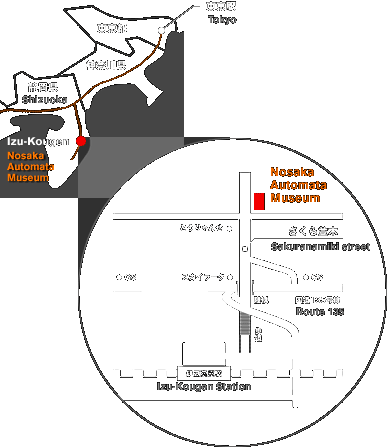 交通・Transportation
<東京から伊豆高原駅まで・from TOKYO to Izu-kougen station>

電車でのアクセス(東京駅または新宿駅から伊豆高原駅)
By special express "Odorikogo"
Take the special express "Odorikogo" for Shimoda on the Izukyuko line at Tokyo or Shinjuku station. It takes about two hours to Izu-kougen station.

車でのアクセス
By Car
Take the Tomei Express Way in Tokyo and leave at the Atsugi Interchange, making for Odawara ( use the Atsugi-Odawara toll road, National Route 271).
From Odawara take National Route 135 along the coast via Atami, Ito south toward Izu-kougen.
<伊豆高原駅から美術館までのアクセス>・from Izu-kougen station to museum>

徒歩 約15-20分(桜並木通り)
On Foot
About 15-20 minutes along Sakuranamiki street.

バス 約5分 "高原中央"下車すぐ
By Bus
About 5 minutes, get off at Kougen-chuou.

車 約2-3分(国道135号線から桜並木通りへはいる)
By Car
About 2-3 minutes toward Sakuranamiki street from National Route 135.